Biography of Walter FRENKEL
————————————————————————————————
Für unsere deutschsprachigen Leser: Die Biografie ist unterhalb der englischen Version auch auf deustch verfügbar.
————————————————————————————————
Photo of Walter Frenkel in 1942. Source: Family archives
Translated from the biography established by the AFMD (Friends of the Foundation for the Memory of Deportation from the Allier Department):
Walter Frenkel was born on February 24, 1904 in Vienna, Austria. He was the son of Max FRENKEL and Clothilde née FRUCHTER.
In December, 1932 he left Vienna for good to go to Milan, Italy, where he was to manage a rainware factory subsidiary. On May 30, 1935 he married there a non-Jewish dancer, Maria Margherita SCHINDLER nicknamed Grete. They had a son George, who was called Jojo.
Under the terms of the anti-Semitic laws promulgated in Italy, foreign Jews had 6 months to clear out of Italian territory. He thus left Milan with his wife and son to settle in Néris-les-Bains (Allier department) on December 17, 1938. As according to his family he was asthmatic, he may have chosen Néris-les-Bains to be treated there. They first lived in the Villa Amélie housing unit, then in the Villa Jeanine located on the rue Gergovia.
Photo below of Walter in 1928. Source : Family archives
He was arrested on July 29, 1940 because of his former Austrian citizenship, and therefore current German nationality, and interned in the Frémont camp at Vallon-en-Sully (Allier department).
He was never told the reason, but apparently France feared that fifth column German agents had slipped in among the refugees. The head of the camp was a soldier, Reserve Lieutenant NOBLET, with a troop detachment under his orders. More than 480 people were held there.
He was freed on August 8, 1940 after signing a paper in which he delcared having "no claims or complaints to formulate".
(Source of the document below: Departmental archives of the Allier department Mcc2)
Walter FRENKEL was repertoried in Néris-les-Bains as a foreign Jew under the terms of the French state's Anti-Semitic Law of June 1, 1941.
(Source of the document below: Departmental archives of the Allier department 756 W 1)
On May 20, 1942 a ministerial circular came out forbidding "Jews or foreigners to reside in the departments of the Allier and the Puy-de-Dôme".
On October 7, 1942 he was the object of Removal Order n° 949 issued by the Prefecture, forbidding him to sojourn in the departments of the Allier and the Puy-de-Dôme, too close to Vichy, the site of PÉTAIN's anti-Semitic government.
His name is not on the list established in application of the Laws of November 9, 1942 (prohibition for a foreign Jew to leave the community in which he was living) and December 11, 1942 ("Jew" stamped on his identity card). The reason is no doubt that he declared his wife, his son and himself to be Protestant.
Walter FRENKEL must have filed a request for a delay in the application of the removal order n° 949, for on March 11, 1943 the Montluçon chief of police wrote an individual notice concerning Walter FRENKEL. The commissaire concluded his enquiry with the opinion that "the individual in question having no profession and nothing justifying his staying in Néris-les-Bains, (…), the removal order concerning him is to be maintained".
Did he obtain a delay? Did he leave the Allier department to make himself scarce and then return later? The fact is that he was arrested on May 30, 1944 in Néris-les-Bains and interned first in Montluçon, then in the Mal Coiffée German military prison in Moulins (Allier department).
On July 15, 1944 he was transferred from Moulins to Drancy and then deported with 1300 others in convoy n° 77 on July 31st, to Auschwitz.
In  Le Mémorial de la Déportation des Juifs de France, Serge Klarsfeld writes about convoy n° 77: "The number of deportees was 1300. This convoy 77 (…) hauled toward the Auschwitz gas chambers more than 300 children under the age of 18. (…) 291 men were selected with I.D. numbers B 3673 to B 3963; the same for 283 women (A 16457 to A 16739). In 1945 there were 209 survivors, of whom 141 were women".
He was to be selected for work duty and have the number B-3760 tattooed on his forearm. He was then transferred to the Stutthof concentration camp.
The Stutthof concentration camp was situated in East Prussia on marshy ground 36 kilometers (22.5 miles) east of Danzig, at sea level 3 km (2 miles) from the Baltic. Many different nationalities were held there.
The Jewish deportees arrived in large numbers later, especially in 1944, and as of July they made up 70% of the detainees.
The typhus epidemic that broke out during the winter of 1944-1945, as well as the evacuation of the camp on January 25, 1945 at the approach of the Red Army, caused a high mortality rate.
Source: Memorial Book of the Foundation for the Memory of the Deportation
He was evacuated from the Stutthof camp and transferred to the Echterdingen Kommando, which was part of the Natzweiler concentration camp.
Echterdingen: This camp, named "Echterdingen-Bernhausen", lay on the edge of the Stuttgart airfield and existed only from November, 1944 to January, 1945. Set up to house workers who were to repair the landing strip destroyed by bombing, and placed under the administration of the Todt Organization, it took in altogether 600 Jewish prisoners from the Stutthof camp near Danzig.
The grueling earthworks (excavation for underground airplane hangars, stone quarrying) took the lives of 119 of them.
Source: Le Patriote résistant, a monthly put out by the FNDIRP N° 848 December 2010.
He was given I.D. number 43021. On January 21, 1945 he was tranferred to the Ohrdruf Kommando.
Ohrdruf: a Kommando of the Buchenwald concentration camp. Set up administratively by the SS on November 6, 1944, it was situated 70 kilometers (45 miles) southwest of Weimar in Thuringia. The Ohrdruf complex included five Kommandos over a vast military terrain. From August 1944 on, the prisoners were consigned to carrying out the earthworks for, among other things, an underground bunker for the General Staff of the German Army, a vault for the gold reserves of the Bank of the German Reich, and a launchpad for secret weapons. In all, there were more than 20,000 of them. More than 10,000 were evacuated to Buchenwald.
Source: Memorial Book of the Foundation for the Memory of the Deportation
According to research carried out for the family by the Internation Tracing Service at Bad Arolsen, Germany, he was then transferred to the the Dachau concentration camp, where he died of typhus in the infirmery in March, 1945.
In N° 94 of the Journal Officiel of April 2013 he was declared to have "Died in deportation" on August 5, 1944 at Auschwitz (Poland).
His name is on the plaque for those who "died in deportation" in Néris-les-Bains.
Below is the picture of the plaque on the War Memorial in Néris-les-Bains, which was made possible through the research carried out by the AFMD of the Allier Department. It was inaugurated on May 8, 2008 by Monsieur Jean-Claude DE PIN, the mayor of Néris-les-Bains, Madame Maud LORCH, and Madame Colette BOURGUIGNON, vice president of the Montluçon-Commentry section of the FNDIRP. Our thanks to the the municipality of Néris-les-Bains for its commitment to the memory of the Deportation.
Photo from AFMD of the Allier Department
Sources:
– Archives of the Allier Department  1864 W1, 756 W 1 , 996 W 15.3, 996 W 208.03, 740 W 3, 1289 W 11.2, 996 W 123.02, 996 W 194.01, Mcc2,
– Family archives
– Contemporary Jewish Documentation Center
– Klarsfeld, Serge: List of the transfers to Drancy on July 15, 1944
– Klarsfeld, Serge:  Memorial to the Jews Deported from France: 1942-1944 1978
– MemorialGenWeb Internet site
– Yadvashem.org Testimonial
Our thanks and gratitude to Thomas Fischer Weiss for his biography of Walter Frenkel, Le destin de Walter Frenkel
—————————————————————————————
Biografie von Walter Frenkel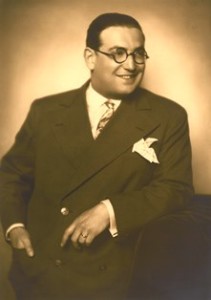 1904-1945 I Geburt: WIEN I Festnahme: NERIS-LES-BAINS I Residence: MAILAND, NERIS-LES-BAINS
Foto von Walter Frenkel aus 1942. Quelle: Familien Archive
Walter Frenkel wurde am 2. Februar 1904 in Wien, Österreich, geboren. Er war der Sohn von Max FRENKEL und Clothilde geborene FRUCHTER.
Im Dezember 1932, verließ er Wien endgültig/ für immer, um nach Mailand, Italien, zu gehen, wo er eine Tochtergesellschaft einer Fabrik für Regenwaren/ einer rainware Fabrik leiten sollte.
Am 30. Mai 1935 heiratete er dort die nichtjüdische Tänzerin Maria Margherita SCHINDLER mit dem Spitznamen Grete. Sie bekamen einen Sohn namens Georges, der Jojo genannt wurde.
Gemäß den antisemitischen Gesetzen, die in Italien erlassen wurden, bekamen ausländische Juden sechs Monate Zeit, um aus dem italienischen Territorium zu verschwinden. Er verließ also Mailand mit seiner Frau und seinem Sohn und lies sich Néris-les-Bains (Departement Allier)  am 17. Dezember 1938 nieder. Da er seiner Familie zufolge Asthmatiker war, entschied er sich vielleicht für Néris-les-Bains, um sich dort behandeln zu lassen. Sie lebten zunächst in der Wohnsiedlung der Villa Amélie, dann in der Villa Jeanine, in der Rue Gergovia.
Foto oben von Walter aus dem Jahr 1928. Quelle: Familien Archive.
Er wurde am 29. Juli 1940 auf Grund seiner ehemaligen österreichischen und daher nunmehr deutschen Staatsbürgerschaft verhaftet und im Lager Frémont in Vallon-en-Sully (Departement Allier) interniert.
Ihm wurde nie der Grund genannt, aber anscheinend hatte die französische Regierung befürchtet, dass deutsche Agenten der fünften Kolonne sich unter den Flüchtlingen eingeschlichen hatten. Der Leiter des Lagers war ein Soldat, Reserve Leutnant NOBLET, mit einer Truppenkommando in seiner Befehlsgewalt. Mehr als 480 Menschen wurden dort festgehalten.
Er wurde am 8. August 1940 freigelassen, nachdem er ein Papier unterzeichnet hatte, in dem er erklärte "keine Ansprüche oder Beschwerden erheben zu werden."
(Quelle des untenstehenden Dokuments: Abteilungsarchiv der Allier-Abteilung Mcc2)
Walter Frenkel wurde in Néris-les-Bains als ausländischer Jude im Rahmen des antisemitischen Gesetzes des französischen Staats von 1. Juni 1941 aufgeführt.
(Quelle des untenstehenden Dokuments: Abteilungsarchiv der Allier-Abteilung 756 W 1)
Am 20. Mai 1942 wurde in einem ministeriellen Rundschreiben verboten, dass "sich Juden oder Ausländer in den Departements Allier und Puy-de-Dôme niederlassen/aufhalten."
Am 7. Oktober 1942 wurde er Gegenstand des von der Präfektur erlassene Räumungsbefehls Nummer 949, der ihm den Aufenthalt in den Departements Allier und Puy-de-Dôme zu nahe an Vichy, dem Sitz von PETAINs antisemitischer Regierung (Vichy-Regime), verbot.
Sein Name steht nicht auf der Liste, die erstellt wurde, um die Anwendung der Gesetze vom 9. November 1942 (Verbot für einen Ausladnischen Juden die Gemeinschaft/Gemeinde, in der er lebt zu verlassen) und 11. Dezember 1942 ("Jude" in den Personalausweis gestempelt) nachzuverfolgen.
Der Grund dafür ist zweifellos, dass er seine Frau, seinen Sohn und er selbst zu Protestanten konvertierten/ sich zu Protestanten erklärt haben.
Walter FRENKEL muss einen Antrag auf Verzögerung der Ausführung des Rückführungsbefehls  Nummer 949 gestellt haben, denn am 11. März 1943 schrieb der Polizeichef von Montluçon eine persönliche Mitteilung Walter FRENKEL betreffend. Der Kommissar schloss seine Ermittlungen mit der Stellungnahme, dass  "die betreffende Person, weder Arbeit noch ein anderen Grund hat, der den ihren Aufenthalt in Néris-les-Bains rechtfertigen würde und daher der sie betreffende Räumungsbefehl beibehalten werden soll.
Gab es eine Verzögerung beim Räumungsbefehl? Verließ er das Departement Allier, um sich aus dem Staub zu machen und dann spätere zurückzukommen? Tatsache ist, dass er am 30. Mai 1944 in Néris-les-Bains verhaftet und erst in Montluçon, dann im deutschen Militärgefängnis Mal Coiffée in Loulins (Departement Allier) interniert wurde.
Am 15. Juli 1944 wurde er von Moulins nach Drancy verlegt und dann mit 1300 anderen zusammen im Konvoi 77 am 31. Juli nach Auschwitz deportiert.
Im "Mémorial de la Déportation des Juifs de France", schreibt Serge Klarsfeld über den Konvoi 77: "Die Anzahl der Deportierten betrug 1300. Dieser 77. Konvoi brachte mehr als 300 Kinder unter 18 Jahren in die Gaskammern von Auschwitz. 291 Männer wurden selektiert. Sie trugen die Identifikationsnummern von B 3673 bis B 3963? Das gleiche galt für 283 Frauen (A 16457 bis A 16739). Im Jahr 1945 gab es 209 Überlebende, von denen 141 Frauen waren."
Er (Frenkel) sollte für den Arbeitseinsatz selektiert werden und ihm wurde die Nummer B 3760 auf seinen Oberarm tätowiert. Dann wurde er jedoch in das Konzentrationslager Stutthof verlegt.
Das Konzentrationslager Stutthof lag in Ostpreußen auf sumpfigem Boden 36 Kilometer östlich von Danzig, auf drei Kilometer über dem Meeressiegel der Ostsee. Menschen mit vielen verschiedenen Nationalitäten wurde hier festgehalten.
Jüdische Deportierte kamen erst später, insbesondere 1944, in großer Zahl an, und ab Juli machten sie 70% der Häftlinge aus.
Die Typhusepidemie, die im Winter 1944-1955 ausbrach, führte sowohl wie die Evakuation des Lagers am 25. Januar 1945 beim Vormarsch der Roten Armee, zu einer hohen Sterblichkeitsrate.
Quelle: Gedenkbuch der Stiftung zum Gedenken an die Deportation
Er wurde aus dem Lager Strutthof evakuiert und in das Echterdingen Kommando verlegt, welches Teil des Natzweiler Konzentrationslagers war.
Echtdingen: Dieses Lager, genannt "Echtdingen-Bernhausen", lag am Rand des Stuttgarter Flugplatzes und existierte/ bestand nur von November 1944 bis Januar 1945. Sie wurden als Arbeiter eingesetzt/ zu Arbeitern degradiert, die die von Bomben zerstörte Landebahn, reparieren mussten und unter der Leitung der Todt Organisation standen. Das Lager nahm insgesamt 600 Jüdische Gefangene des Stutthof Lagers in der Nähe von Danzig auf.
Die anstrengenden Erdarbeiten (Aushub für unterirdische Flugzeughangars, Steinbruch) forderte das Leben von 119 von ihnen.
Quelle: Le Patriote résistant, ein Monat, der vom FNDIRP N° 848 Dezember 2010 herausgegeben wird.
Er erhielt die Identifikationsnummer 43021. Am 21. Januar 1945 wurde er zum Ohrdruf Kommando verlegt.
Ohrdruf: Ein Kommando des Konzentrationslagers Buchenwald. Es Wurde am 6. November 1944 von der SS administrativ/ verwaltungstechnisch eingerichtet und lag 70 Kilometer südwestlich von Weimar in Thüringen. Der Ohrdruf-Komplex umfasste fünf Kommandos auf einem riesigen Militärgelände. Ab August 1944 wurden die Häftlinge mit dem Erdbau/ Grabarbeit/ Erdarbeiten beauftragt, unter anderem für einen unterirdischen Bunker für den Generalstab der deutschen Armee, einen Tresor für die Goldreserven der Bank des Deutschen Reiches und für eine Abschussbasis/Abschussrampe für geheime Waffen; Insgesamt gab es mehr 20. 000 von ihnen. Mehr als 10. 000 wurden nach Buchenwald evakuiert.
Quelle: Gedenkbuch der Stiftung zum Gedenken an die Deportation.
Nach Nachforschungen des Internationalen Suchdienstes in Bad Arolsen, Deutschland für die Familie, wurde er danach in das Konzentrationslager Dachau verlegt, wo er im Marz 1945 an Typhus auf der Krankenstation starb.
In der 94. Ausgabe des Journal Officiel vom April 2013, wird angegeben, er sei "gestorben bei der Deportation" am 5. August 1944 in Auschwitz (Polen).
Sein Name ist auf der Tafel für diejenigen, die in Néris-les-Bains "bei der Deportation starben".
Unten ist ein Bild der Tafel auf dem Kriegsgedenkstätte in Néris-les-Bains, was durch die Recherchearbeit der AFMD des Departement Allier ermöglicht wurde. Sie wurde am 8. Mai 2008 von (Monsieur) Jean-Calude DE PIN, dem Bürgermeister von Néris-les-Bains, (Madame) Maud LORCH und (Madame) Colette BOURGUIGNON, Vizepräsidentin der Abteilung Montluçon Commentry des FNDIRP, eingeweiht. Wir danken der Gemeinde von Néris-les-Bains für ihr Engagement im  Gedenken an die Deportation.
Foto von AFMD des Departement Allier
Quellen:
Archiv der Allier-Abteilung 1864 W1, 756 W 1, 996 W 15.3, 996 W 208.03, 740 W 3, 1289 W 11.2, 996 W 123.02, 996 W 194.01, Mcc2,
– Familienarchiv
– Zeitgenössisches jüdisches Dokumentationszentrum
– Klarsfeld, Serge: Liste der Versetzungen nach Drancy am 15. Juli 1944
– Klarsfeld, Serge:  Denkmal für die aus Frankreich deportierten Juden: 1942-1944 1978
– MemorialGenWeb Internetauftritt
– Yadvashem.org Erfahrungsbericht
Unser Dank und unsere Anerkennung gehen an Thomas Fischer Weiss für seine Biografie über Walter Frenkel, Le destin de Walter Frenkel