Biography of Hugo Seiler
——————————————————————————————–
Für unsere deutschsprachigen Leser: Die Biografie ist unterhalb der englischen Version auch auf deutsch verfügbar.
——————————————————————————————–
The adjacent photo is of Hugo SEILER with his son-in-law, Mr. Dantzer (an Alsatian Christian), Dantzer's sister-in-law, Mathilde Dantzer, and one of Hugo's grandaughters at her christening in 1942.
Hugo SEILER was born in July 19, 1890 in Vienna, Austria into a Jewish family whose paternal branch came from Koloméa in Galicia (now in Ukraine), the maternal branch coming from Nikolsburg, the German name of Mikulov, today a town in the Czech Republic. His parents had four sons, of which Hugo was the second.
At the age of 16 he was apprenticed to his father, who then ran a dyer's shop. Three years later he obtained his apprentice's certificate. He then left to do his military service in 1911 and was inducted during the First World War. He was sent to the Russian front. Demobilized, he married Berthe Turkel in the synagogue of the Vienna garrison in October, 1918. They had a daughter Rose in 1920.
His wife's family came from Lemberg, the Austrian name of the Galician capital up until the Great War. It is now Lviv in Ukraine. There they ran a café, "The American Café". They fled the Russian advance all the way to Vienna. Berthe was born in Czernowitz, the Austrian name of Tchernivtsi in present-day Ukraine.
Between 1920 and 1923 Hugo took up the jute trade; he was sent by his employers to take over the management of a jute factory in Port Saïd, Egypt, whence he was expelled by the English for being Austrian.
In 1924 the small family took up residence with Berthe's father in Alsace, where her brother had found work.
Berthe's father died in 1936.
In Mulhouse, at the age of 34, Hugo started over from zero, training from 1925 to 1930 to be an engraver. As the work didn't suit him, however, he ended up taking a job as a sales agent in the confectionery business from 1930 to 1939.
He crisscrossed Alsace at the wheel of his car with his samples while his wife opened a boarding house for Polish Jews studying at the Mulhouse School of Chemistry.
In November 18, 1939, under the provisions of the decree on the measures to be taken toward individuals dangerous to national defense, Hugo, Berthe, and Rose were labeled "enemy nationals".
In September Hugo was imprisoned in the fortress of Langres, but thanks to the intervention of Mr. Wagner, the mayor of Mulhouse, he was released two months later. He was put under house arrest in Nîmes, far from the border, and he, his wife, and his daughter were all three compelled to sign in at the police station twice a week.
Berthe had to close her boarding house, as the Polish and Austrian parents of the students could no longer cover their children's expenses after 1938. Hugo was forbidden to work and their resources melted.
In the midst of preparing to move to Nîmes on December 15, 1939 his wife was handed an order by a policeman requisitioning all their possessions. She suffered a stroke in front of her daughter and died the next day in the Mulhouse hospital. She was 47 years old.
The police chief gave Hugo a leave of two days to go and bury his wife in the Jewish cemetery of Mulhouse and come back with his daughter and her luggage.
On June 10, 1940 Italy entered the war on the side of Germany and Japan; Hugo was reinterned, this time in the prison of Mende in the Lozère department, before being again released.
On November 11, 1942 the Germans invaded the Free Zone. At Romans Hugo was interned in a disaffected factory in horrible conditions. "People slept on a little straw strewn on the floor, there were no doors, no windows", his daughter says. She was able to get him freed through the intervention of a refugee wine merchant, Monsieur Burkard. She was herself the target of an internment order she received by mail, she rushed to marry a non-Jewish Alsatian in April, 1941. She gave birth to a little girl, Emmy, on October 10, 1942, who was baptized immediately.
On May 19, 1944, she was delivered of a boy, Robert, in St.-Étienne.
Meanwhile, the vise was tightening around Hugo, who was arrested on May 31, 1944 after being denounced by his neighbors for listening to the radio in his flat, or, according to another source, while conversing with some Austrian soldiers garrisoned in Nîmes.
His apartment was given to a Spanish cleaning woman who worked at Gestapo headquarters. His car was confiscated by the Germans. The few possessions he had stashed in a box in the cellar were pillaged.
His daughter's maternity kept her tied to St.-Étienne, and her inability to do anything for him left her in despair. She herself and her family were also in danger (122 Jews were arrested in St.-Étienne in May).
Hugo was sent to work with a mine-clearing squad at the Nîmes train station, then sent to Drancy, deported in convoy 77, and selected for forced labor upon his arrival.
It is known that he worked on road construction, in a mine, and at the Buna-Monowitz factory. Unusually, there is a mention on the back of his Drancy identity sheet that he was part of the big selection for the gas chamber (block 5) carried out on October 13, 1944.
This selection is described by Primo Levi in his book Si c'est un homme in the chapter titled Octobre 44.
This mention was inscribed by Anne Sussmann, an Austrian Auschwitz survivor who knew Hugo in deportation. Yvette Levy, another survivor, remembers Anne and reports:
"She was engaged in spreading disinformation among the German troops in Lyon for the Résistance. She became pregnant while in the camp and had a miscarriage during roll call. With the complicity of some Lorraine workers she escaped from an arms factory to which she had been sent. It is not unlikely that she and husband knew Hugo, for the Austrians had been gathered together. Her husband survived by a miracle, and they lived for a while in Paris before leaving for Vienna. They were genuine militants for keeping memory alive."
On her return to Paris she worked at the catalogue of resistance activists and war victims, which gave her access to the Drancy file to which she was able to add the note that informs us of Hugo's fate. She and her husband died in 1986 and 1987.
This handwritten note was only discovered in 1990 when more intense research was sparked by the work of Serge Klarsfeld and of the FFDJF (Sons and Daughters of French Jews), when a photocopy was made of the data sheet.
Hugo's daughter Rose long believed her father had died during the great evacuation march in the snow in January 45. A tailor who had survived it had told her so.
Rose Seiler became a French citizen after the war. She has always refused to accept any monetary compensation from Germany despite the precarious situation in which she found herself after her divorce in 1960. She had five children, 14 grandchildren, 12 great-grandchildren, and one great-great-granddaughter named Cléa, as of May 2017.
3500 Austrians, mostly Jews, were deported from France. 200 of them survived.
Biography established by Kathy Dantzer-Lalo
——————————————————————————-
Biografie Hugo Seiler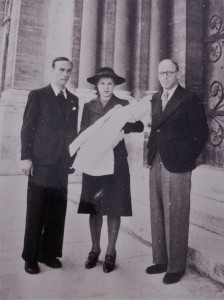 1890-1944 I Geburt: ÖSTERREICH, WIEN I Festnahme: FRANKREICH, NIMES I Wohnsitz: ÖSTERREICH, ÄGYPTEN, MULHOUSE, PORT-SAID, WIEN
Das nebenstehende Foto zeigt Hugo SEILER mit seinem Schwiegersohn Herrn Dantzer (einem elsässischen Christen), Dantzers Schwägerin, Mathilde Dantzer, und einer von Hugos Enkeltöchtern bei ihrer Taufe 1942.
Hugo Seiler wurde am 19. Juli 1890 in Wien, Österreich, in eine jüdische Familie geboren, deren Wurzeln väterlicherseits in Koloméa in Galizien (der heutigen Ukraine) liegen und mütterlicherseits aus Nikolsburg, dem deutschen Namen für Mikulov, heute eine Stadt in der Tschechischen Republik, stammten. Seine Eltern hatten vier Söhne, von denen Hugo der zweit älteste war.
Im Alter von 16 Jahren wurde er von seinem Vater in die Lehre genommen, der damals eine Färberei betrieb. Drei Jahre später erhielt er sein Lehrlingszeugnis. 1911 ging er dann zum Militärdienst und wurde während des Ersten Weltkrieges eingezogen. Er wurde an die russische Front geschickt. Wieder abgezogen (von der Front), heiratete er im Oktober 1918 Berthe Turkel in der Synagoge der Wiener Garnison. 1920 bekamen sie eine Tochter namens Rose.
Die Eltern und die Familie seiner Frau stammten aus Lemberg, dem österreichischen Namen der Hauptstadt Galiciens bis zum Ersten Weltkrieg. Heute heißt die Stadt Lviv (Lemberg) und liegt in der Ukraine. Dort führten sie das Café "le café américain". Sie flohen vor den Bombardements des russischen Vormarsches bis nach Wien. Berthe wurde in Czernowitz geboren, dem österreichischen Namen für Tschernowitz (ebenfalls deutsch im ukrainischen ЧернівціTscherniwz) in der heutigen Ukraine.
In den Jahren von 1920 bis 1923, widmete Hugo sich dem Jutehandel. Er wurde von seinen Arbeitgebern nach Port Saïd in Ägypten geschickt, um dort das Management/ die Leitung einer Jutefabrik zu übernehmen. Dort wurde er von den Briten seiner österreichischen Herkunft wegen ausgewiesen.
1924 zog die kleine Familie bei Berthes Vater im Elsass ein, wo ihr Bruder Arbeit gefunden hatte. Berthes Vater starb 1936.
In Mulhouse, im Alter von 34 Jahren, begann Hugo von Grund auf neu und absolvierte von 1925 bis 1930 eine Ausbildung zum Graveur. Da ihm die Arbeit jedoch nicht zusagte/ zu ihm passte, nahm er schließlich von 1930 bis 1939 eine Stelle als (Handels)vertreter in der Süßwarenindustrie an.
Er durchquerte in seinem Auto mit seinen (kost)Proben (im Gepäck) das Elsass, während seine Frau eine Pension/ Herberge/ Wohnheim für polnische Juden, die in Mulhouse an der l'Ecole de Chimie studierten, eröffnete.
Am 18. November 1939 wurden Hugo, Berthe und Rose gemäß den Bestimmungen der Verordnung über die Maßnahmen gegen Personen, die eine Gefahr für die nationale Sicherheit darstellen, zu "Staatsfeinden" erklärt und fielen somit in den Geltungsbereich dieses Gesetzes.
Im September wurde Hugo in der Festung Langres gefangen genommen, aber dank der Intervention des Bürgermeisters von Mulhouse, Herrn Wagner, wurde er zwei Monate später wieder freigelassen. Er wurde in Nîmes weit von der Grenze entfernt unter Hausarrest gestellt und er, seine Frau und seine Tochter wurden gezwungen, sich zwei Mal in der Woche auf der Polizeistation zu melden.
Berthe musste ihre Pension schließen, da die polnischen und österreichischen Eltern der Studenten nach 1938 nicht länger die Ausgaben ihrer Kinder decken/sie unterstützen konnten. Hugo wurde es verboten zu arbeiten und seine (finanziellen) Mittel/ Ressourcen schwanden dahin.
Mitten in den Vorbereitungen für ihren Umzug nach Nîmes am 15. Dezember 1939, erhielt seine Frau von einem Polizisten den Befehl, all ihre Besitztümer auszuhändigen/um all ihre Besitztümer zu beschlagnahmen. Vor den Augen ihrer Tochter erlitt sie einen Schlaganfall und starb am nächsten Tag im Krankenhaus von Mulhouse. Sie starb im Alter von 47 Jahren. Der Polizeichef gab Hugo zwei Tage Zeit, um seine Frau auf dem jüdischen Friedhof zu beerdigen und mit seiner Tochter und ihrem Gepäck wiederzukommen.
Am 10. Juni 1940 schloss sich Italien dem Krieg auf Seiten Deutschlands und Japans an. Hugo wurde erneut interniert, dieses Mal in dem Gefängnis von Mende im Departement Lozère, bevor er wieder freigelassen wurde.
Am 11. November 1942 marschierten die Deutschen in die freie Zone eine. In der verlassenen Fabrik, Romans, wurde Hugo unter schrecklichen Bedingungen interniert: "Die Leute schliefen auf einem kleinen Fleckchen Stroh auf dem Boden, es gab keine Türen, keine Fenster", erzählt seine Tochter. Sie schaffte es, ihn Dank der Intervention eines selbst geflüchteten Weinhändlers, Monsieur Burkard,  befreien zu lassen. Sie selbst wurde Ziel eines Internierungsbefehls, den sie per Post erhielt; im April 1941 heiratete sie eilig einen nicht jüdischen Elsässer. Am 10. Oktober 1942 bekam sie ein kleines Mädchen, Emmy, das sofort getauft wurde.
Im folgenden Jahr, am 19. Mai 1944, brachte sie einen Jungen, Robert, in St-Etienne zur Welt.
Unterdessen zog sich Hugos Schlinge zu/ stand Hugo das Wasser bis zum Hals: Am 31. Mai 1944 wurde er verhaftet, nachdem er von seinen Nachbar wegen des Radiohörens in seiner Wohnung oder, wie andere Quellen vermuten, wegen Gesprächen mit einigen in Nîmes stationierten österreichischen Soldaten angeklagt worden war.
Seine Wohnung wurde an eine spanische Putzfrau übergeben, die im Gestapo Hauptquartier arbeitete. Sein Auto wurde von den Deutschen beschlagnahmt. Seine wenigen Besitztümer, die er in einer Kiste im Keller versteckt hatte, wurden geplündert.
Die Mutterschaft seiner Tochter hielt sie in St.-Etienne und ihre Unfähigkeit, ihm helfen zu können, ließ sie verzweifeln. Auch sie selbst und ihre Familie waren in Gefahr (122 Juden wurden im Mai in St.-Etienne verhaftet).
Hugo wurde in einem Mienenräumungskommando zur Arbeit am Bahnhof von Nîmes geschickt, danach nach Drancy geschickt und schließlich im Konvoi 77 deportiert und bei seiner Ankunft für Zwangsarbeit selektiert.
Es ist bekannt, dass er im Straßenbau, in einer Mine und im Konzentrationslager Auschwitz III/ Konzentrationslager Monowitz gearbeitet hat. Ungewöhnlicherweise, wird auf der Rückseite seines Drancy Akte erwähnt, dass er in der großen Selektion für die Gaskammer (Block 5) ausgewählt wurde, die am 13. Oktober 1944 durchgeführt wurde. Diese Selektion wird von Primo Levi in seinem Buch "Si c'est un homme" in dem Kapitel mit dem Titel "Octobre 44" beschrieben.
Dieser Vermerk wurde von Anne Sussmann, eine österreichischen Auschwitz Überlebenden hinzugefügt, die Hugo von der Deportation kannte. Yvette Levy, eine weitere Überlebende, erinnert sich an Anne und berichtet:
"Sie versorgte die deutschen Truppen im Namen der Resistance mit Falschinformationen. Sie wurde im Konzentrationslager schwanger und erlitt eine Fehlgeburt während des Appells. Mit der Hilfe einiger Lothringer Arbeiter entkam sie aus einer Waffenfabrik, in die man die geschickt hatte. Es ist wahrscheinlich, dass sie und ihr Mann Hugo gekannt haben, da die Österreicher zusammen eingesperrt worden waren. Ihr Mann überlebte wie durch ein Wunder und sie lebten für eine Weile in Paris, bevor sie nach Wien gingen. Sie waren echte Aktivisten für die Gedenkkultur."
Nach ihrer Rückkehr nach Paris arbeitete sie an einer Akte über die Widerstandskämpfer der Résistance und über die Kriegsopfer, was ihr den Zugang zu den Drancy Akten gewährte, zu welchen sie die Notiz hinzufügen konnte, die uns über Hugos Schicksal informiert. Sie und ihr Mann starben 1986 und 1987.
Diese handschriftliche Notiz wurde erst 1990 entdeckt, als durch die Arbeit von Serge Klarsfeld und der FFDJF (Söhne und Töchter französischer Juden) intensivere Nachforschungen in die Wege geleitet wurden, als eine Fotokopie der besagten Akte angefertigt wurde.
Hugos Tochter Rose glaubte lange Zeit, ihr Vater sei während des großen Todesmarsches im Schnee im Januar 1945 gestorben. Ein Schneider, der überlebt hatte, hatte es ihr so erzählt.
Rose Seiler erhielt nach dem Krieg die französische Staatsbürgerschaft. Trotz der unsicheren/ prekären Lage/Situation, in der sie sich nach ihrer Scheidung 1960 befand, hat sie sich immer geweigert, irgendeine Art von finanzieller Entschädigung aus Deutschland anzunehmen. Sie hatte fünf Kinder, 14 Enkelkinder, zwölf Urenkel und eine Ururenkelin namens Cléa (seit Mai 2017).
3500 Österreicher, überwiegend Juden, wurden aus Frankreich deportiert. 200 von ihnen überlebten.
Biografie (erstellt) von Kathy Dantzer-Lalo